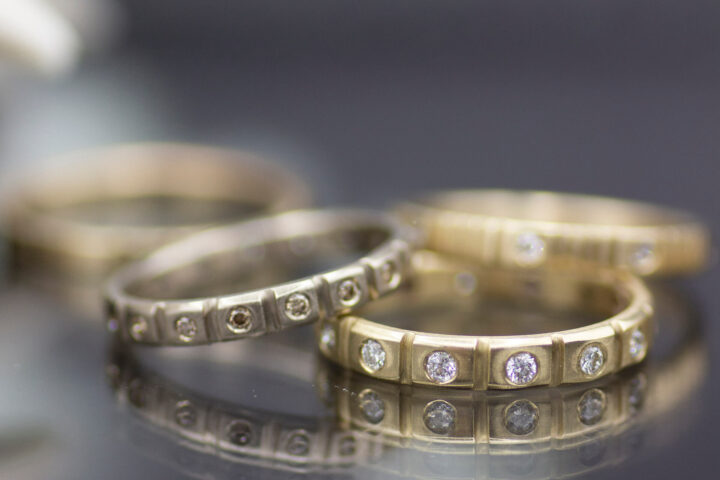 White gold, rose gold, platinum? Oh,my.
When it comes to choosing the perfect metal for your engagement ring or wedding band, there are many options available to you. Four popular choices for gold are : White gold, palladium white gold, yellow gold, and rose gold. And these come in different karat options: 10K, 14K, 18K, 22K. But what are the differences between these metals, what is a karat, and how do you choose the right option for you? Let's take a look at the characteristics of each one: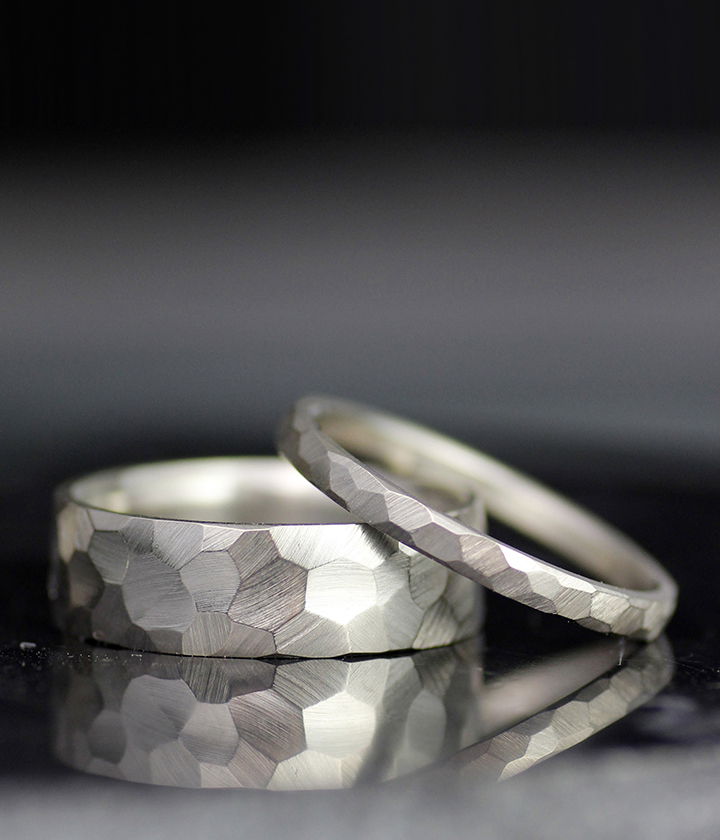 White Gold
White gold is a popular choice for engagement rings and wedding bands because of its classic and timeless look. However, the term "white gold "is a bit of a misnomer. In fact, white gold was invented when platinum prices soared and folks wanted a cheaper alternative to platinum. All gold is "gold" in color. The different shades are created by mixing pure gold with other metals such as nickel, palladium, and silver to create an alloy. This alloy can then be plated with rhodium to give it the typical white color and a glossy finish you see in most commercial jewelry stores. While plating is popular, its purpose is create a gold that looks more like platinum. And rhodium plating is its own beast.
Rhodium plating can and eventually will wear off over time, exposing the yellowish tint of the underlying alloy. This is why you may hear people speak of having their ring "dipped." A ring may need to be re-plated every 6 months to every few years depending on style, body chemistry and lifestyle. My philosophy is that no one needs more maintenance in their lives if it can be helped so I encourage you to embrace the natural characteristics of each metal and not try to make them appear to be something they are not. Nickel white gold (the typical white gold used in the US – more on that below) has a warm grey color which can be beautiful in its own right and great to mix with other metals. If you don't like that, then go for something different like palladium white gold or platinum and skip a future of periodic visits to jewelry store.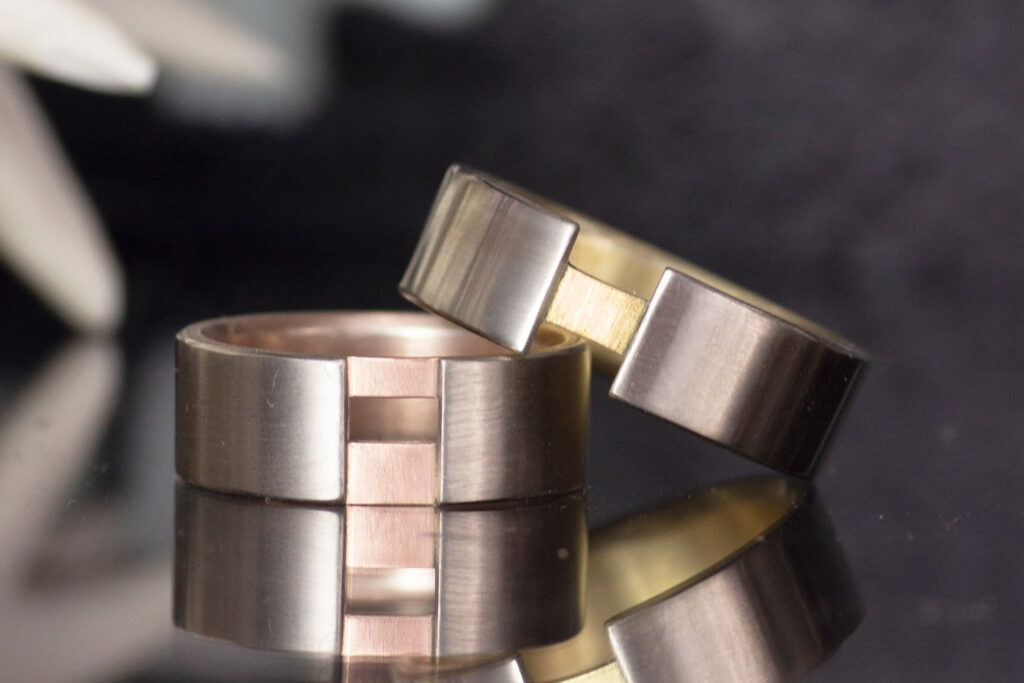 Palladium White Gold
Palladium white gold is a newer alternative to traditional white gold. It is made by mixing pure gold with palladium, a white metal in the same family as platinum. Palladium white gold has a natural white color, so it does not require rhodium plating like traditional white gold, but it still does not have the whiteness of rhodium or platinum. Palladium white gold looks different depending on the karat (more on that later) and the supplier. Each supplier has proprietary recipes of their alloys, the details of which they will not disclose, so palladium white gold from one place may look different than that from another. 18K palladium white gold is a darker grey than 14K and also less yellow. It's particularly good for those who are looking for a darker alloy that will not lose its color over time or for mixed metal designs such as my gap band and razor's edge band.
Another benefit of palladium white gold is that it is less reactive than nickel white gold. In fact, places like EU and Australia do not allow the use of nickel white gold in jewelry manufacturing because an estimated 10 – 15% of the population is allergic to nickel. If you have particularly sensitive skin or are concerned about allergies, it's best to steer clear of nickel white gold. And while some publications will say that palladium white gold is hypo-allergenic, really only platinum is considered truly hypo-allergenic. As far as wear, palladium white gold is a bit different than nickel white gold. With most alloys, they get softer the higher the karat, but 18K palladium white gold is actually harder and more durable than 14K palladium white and is second only to platinum for long term wear and low maintenance. However, at the time of this writing, due to skyrocketing gold prices, and reasonably low platinum prices, a ring made with 18K palladium white gold is actually more expensive than one made with platinum. And for whatever reason, I know of no supplier that offers 10K palladium white gold as an option.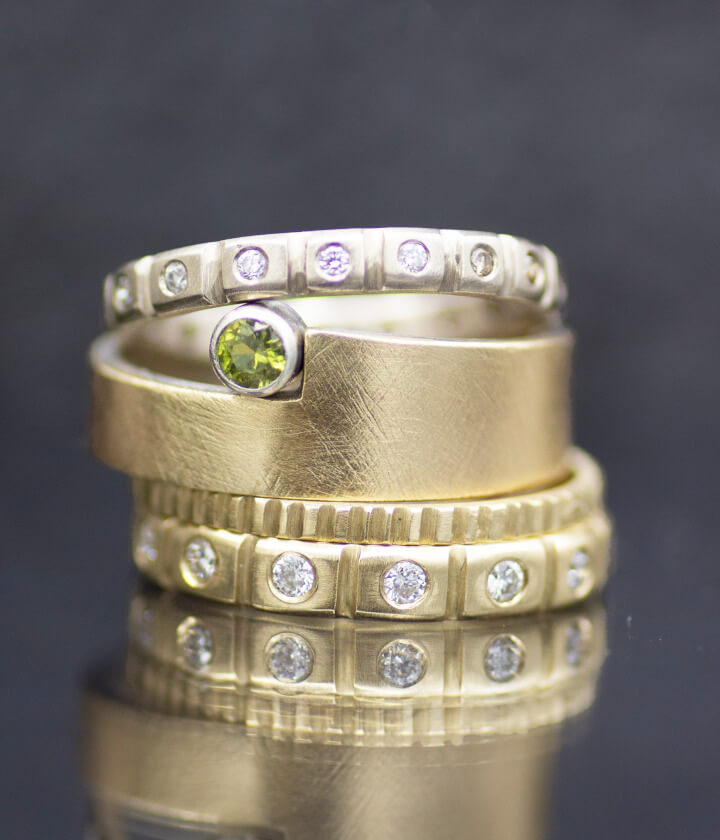 Yellow Gold
Yellow gold is a classic, it is the OG wedding ring material. An while it may feel like a traditional choice for engagement rings and wedding bands, I have found innumerable ways to take yellow gold and make it look modern and unique while maintaining its timeless beauty. Nonetheless, even yellow gold when used as jewelry mixes pure gold with other metals such as copper and zinc to create an alloy. This is both to reduce costs, but mainly because pure yellow gold (24K) is too soft to be used in most jewelry. 24K gold is generally used only for accents or gold leaf. The intensity of yellow gold's hue can vary depending on the specific "recipe" used as well as the karat. Traditionally America alloys use more copper and have a more orange-y hue, whereas European alloys tend to me more neutral yellow. I opt for the more European hues as I think these look more modern and pair better with other alloys in my mixed metal designs.
One clear advantage of yellow gold is that it does not require any plating or maintenance, however, it will tend to patina over time and so in general the hue becomes richer as it gets older.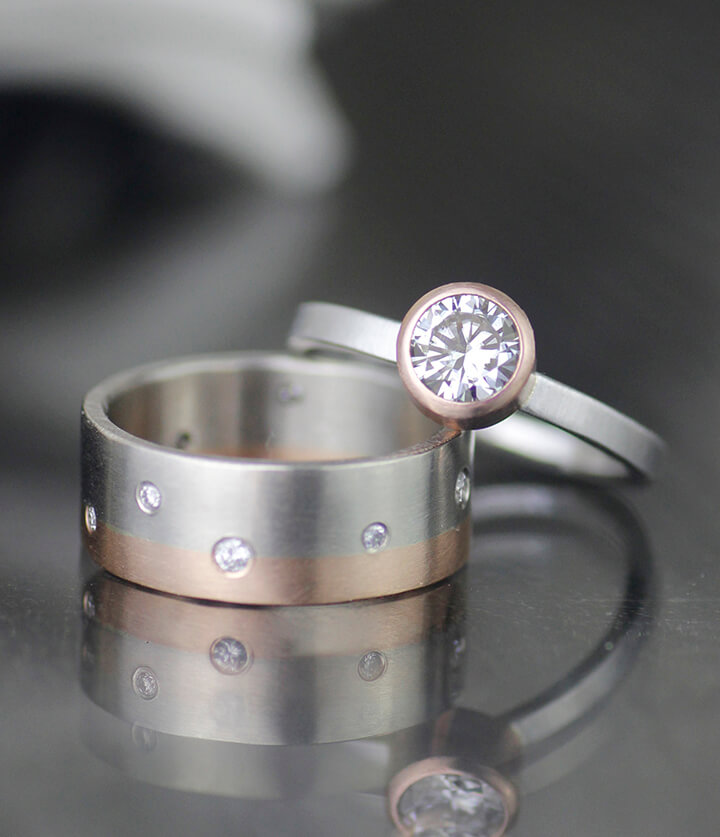 Rose Gold
Rose gold has become increasingly popular in recent years for engagement rings and wedding bands. It is made by mixing pure gold with copper, which gives it its distinctive pink or reddish color. The amount of copper used in the alloy can vary, which results in different shades of rose gold. The karat will also determine color with lower karat alloys have less intensity of color and higher karats having more. This is why in rings such as my faceted fusion or chiseled fusion mixed metal bands, I always use 18K yellow or rose gold as this creates a more noticeable and pronounced contrast between the two metals.
Rose gold is a great option for those who want a unique and modern look for their ring. It pairs well with other metals and can also complement a variety of gemstones.
Gold and karats
What's a karat anyway? A karat is an expression of gold purity meaning 1/24th. Clearly devised before the metric system, this system of indicating the relative proportion of gold originated with a medieval coin called a mark. A mark weighed 24 carats (in this case, the carat was the same as that used in the weighing of gems and was theoretically equal to the weight of the seed of the coral tree). Pure gold could not be used to produce marks because it was too soft, so copper or other metals were added to produce a hard alloy; the purity of the coin was then expressed by the proportion of its carat weight that was actually contributed by gold. (citation:Brittanica.com)
This question is further complicated by the fact that diamonds are also sold by carat. I'll write a future post on this, but for now, the nitty gritty on karat is thus: Karat basically refers to the purity of an alloy and is only used for gold (not platinum, silver or palladium.) 10K is approx. 42% gold, 14K is approx. 58%, 18K is 75%, 22K is approx 92% and 24K is 100%. 14K tends to be the standard in the US and in UK, EU and other places, there often have 9K gold which is not generally used in the US. The 9K mathematically makes more sense as it is based on 1/2 of 18K which is a flat 75% (not a fraction like the others.) Because pure gold is soft, in general lower carats of gold are harder (see exception in palladium white gold above) and higher ones softer. However, the higher the karat, the richer the color. There are many considerations when deciding which karat should be used for which rings. Sometimes they are interchangeable but because the purity of the gold also lends different performance characteristics both for the wearer and for me as a jeweler, not all designs may be offered in all karat options.
Keep in mind that a quality mark is legally an indication of 100% purity. Therefore, mixed metal items cannot be quality marked unless they are the same karat. Additionally, US buyers should know that unlike UK, EU and Australia/NZ, there is no third party assay system for quality marks in the US. Technically, anyone in the US can buy a stamp and put it on anything they want. The only way to know for sure is to have it tested.
What about silver and platinum, titanium and cobalt?
Silver and platinum are pretty much the two opposite ends of the metal spectrum, but both appeal to those who want a neutral white alloy. While I offer silver for many of ring because I recognize not everyone has the ability to afford the other metals, I generally very much do not recommend silver for engagement rings, wedding bands or any ring that will get a lot of wear. Platinum, traditionally much more expensive than gold, is currently comparable and is considered the best option for a white alloy as it is harder, more durable, more scratch resistant, purer (95%) never tarnishes or changes color and is hypo-allergenic. I'll go into more details of the non-gold option on another post.
When choosing a metal for your engagement ring or wedding band, it is important to consider your personal style and preferences, as well as the durability and maintenance requirements of each metal. White gold and palladium white gold, yellow gold and rose gold all have unique characteristics that should be considered when choosing. Before deciding, be sure to check out my materials page where I cover all the alloys including silver, palladium and platinum. And of course, contact me directly if you still have questions!